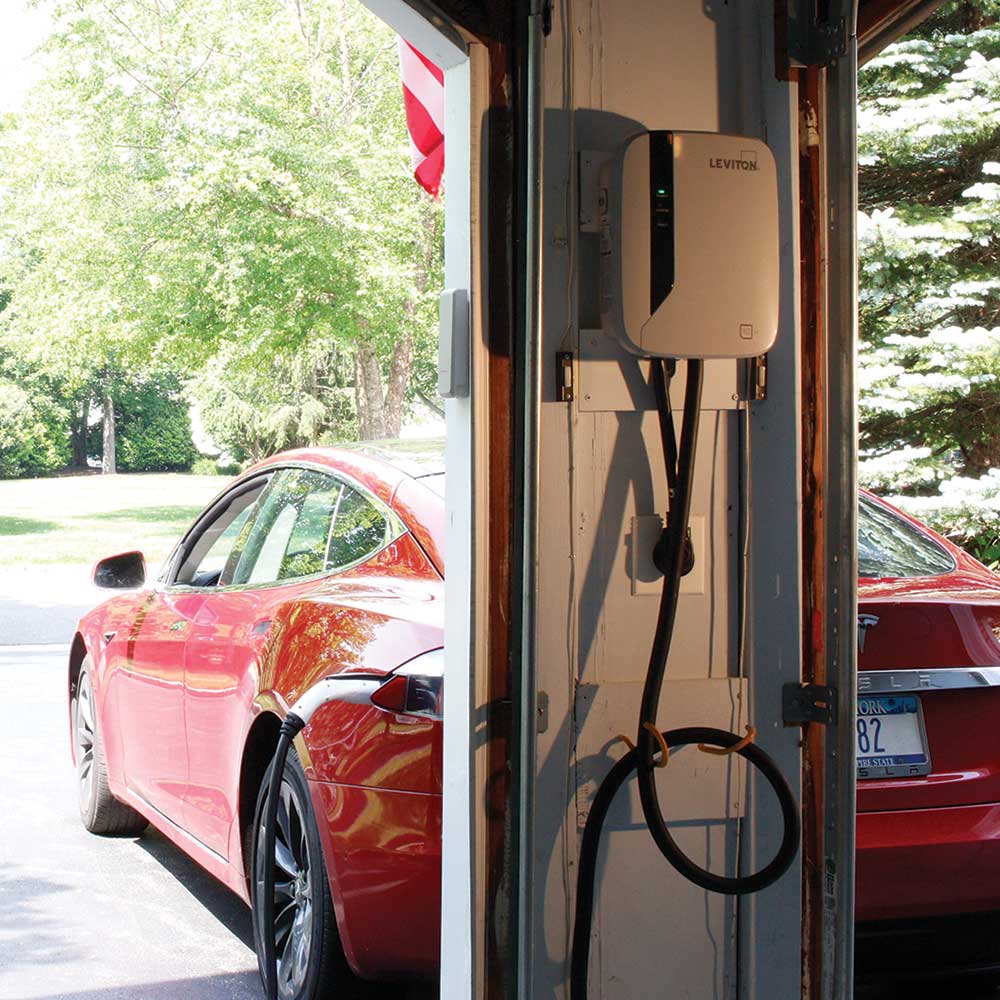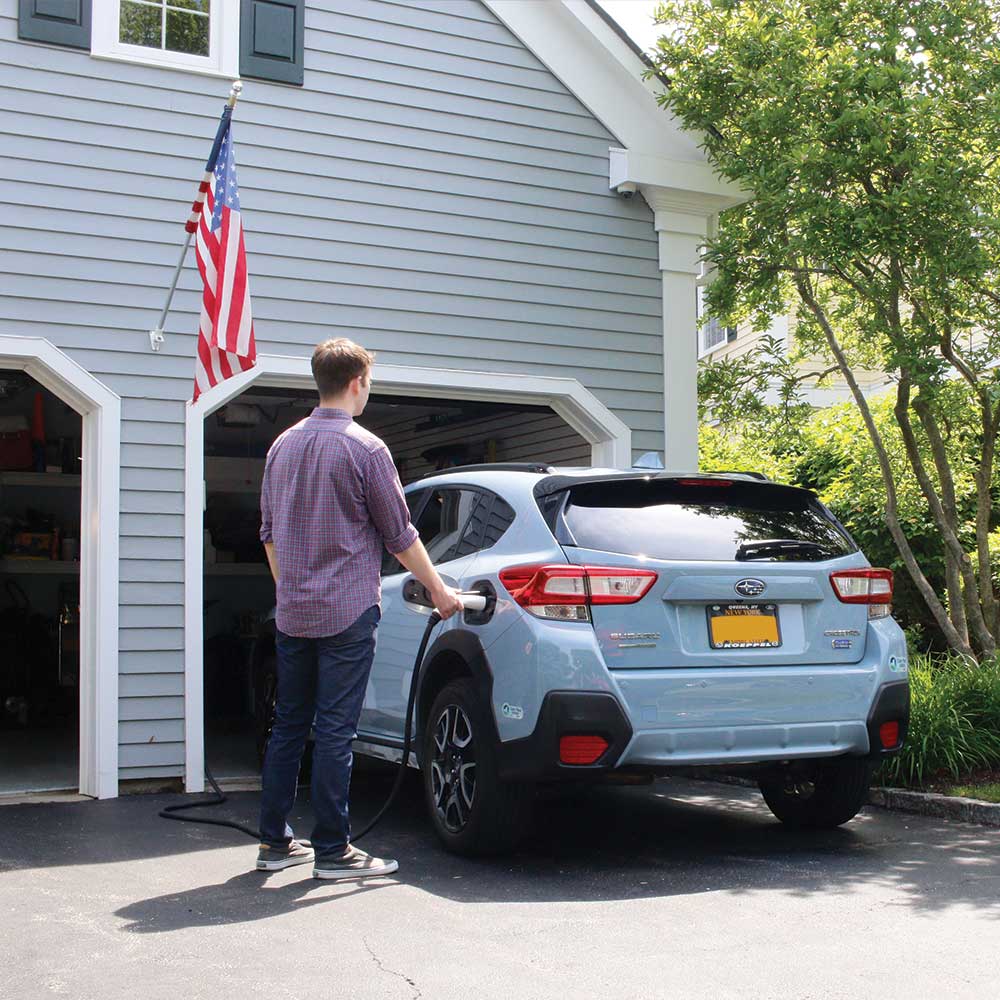 EVSE Products
EVR-Green Electric Vehicle Charging Solutions
Whether you are the driver of an EV, a commercial business owner, or utility company or a landlord, Leviton has the charging station for you.
Leviton offers a complete solution for residential, commercial, and public plug-in electric vehicle (PEV) charging. The EVR-Green® line of electrical vehicle supply equipment (EVSE) and accessories. These products are compliant with all industry standards and compatible with all major auto manufacturers' electric vehicles.
EVR-Green Level 2 Electric Vehicle Chargers
Enables fast charging of any SAE 1772™ compatible electric vehicle
Delivers up to 9.6kW of power
New cord design prevents freezing and cracking in extreme weather
Compact, affordable, easy-to-use and install solution to EV charging
EVR30-B1C & EVR40-B2C

EVR-Green Mini Level 2 EV Chargers
Delivers nearly 5kW of power; a maximum of 20 electric vehicle miles per hour

O

ffers a more compact, affordable, easy to use, on-the-go solution to electric vehicle charging

Designed to be the smallest wall-mounted EV charging station available in North America

EVBL2-P12 & EVBL2-P18
EVR-Green Level 2 Electric Vehicle Charger w/ RFID
Enables cardholders access to fast charging for any SAE 1772™ compatible EV

Activate by tapped RFID card on the front of the unit

New cord design prevents freezing and cracking in extreme weather

EVR30-R2C & EVRFI (Additional RFID Card)
EVR-Green 4000 Level 2 Public Use Charging Stations
Provides corporations, municipalities and utilities industry leading EV charging solutions
Integrating design and functionality with superior reliability and durability
Ideal for workplace, commercial, or outdoor public charging

Shop or explore EVSE products from Leviton here!
Interested in learning a little more about the future of EVSE? The Electrical Distributor magazine has a great article featuring the future of electronic vehicle charging requirements. Read the article here: "Full Speed Ahead"
Check out the Electrical Contractor Magazine's latest article regarding Electronic Vehicles here:
"Interest in EVs Driven by Factor Such as High Gas Prices, New Models"
Charge Times
Click here to download EV Charge Time Comparison chart!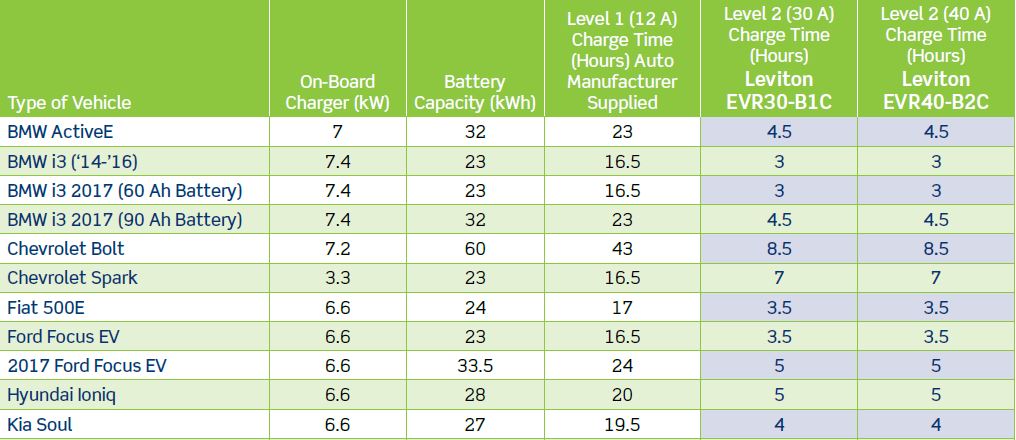 EV Market Facts:
Local building codes have made EV charging a standard amenity in the USA which increases the property value
EV sales have increased from $18K in 2011 to $235K+ in 2018
Every Jaguar and Land Rover launched from 2020 will be electrified
Volkswagen announced almost 70 new electric models by 2028
Ford announced 40 electrified vehicles through 2022
(Statistics from ChargePoint Inc)