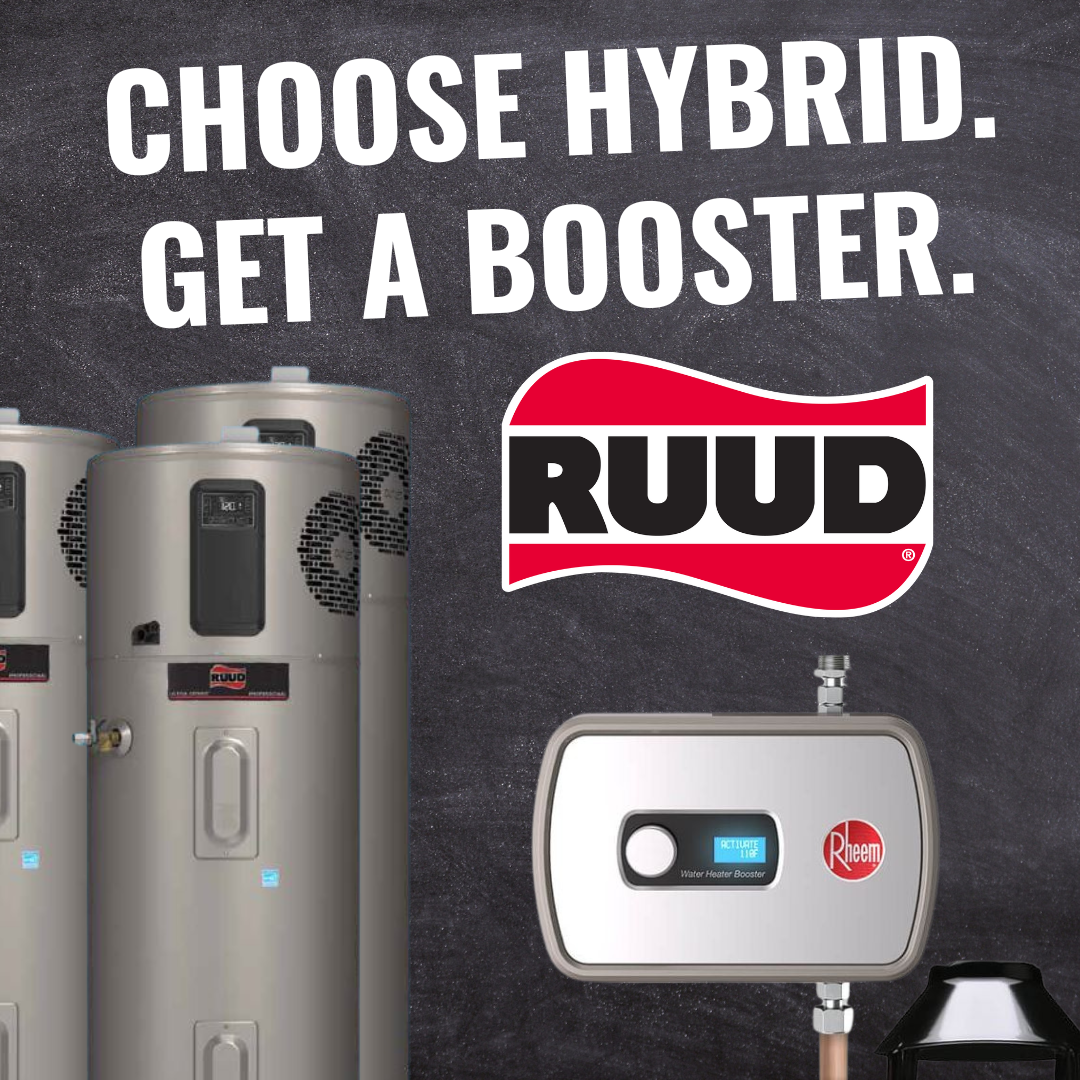 Buy Ruud and get a Boost!
Buy 3 Hybrid Electric models, get a RTEX-AB7 booster FREE!
Provide your customers with the most efficient water heater available.
Why is it such an easy choice?
Easy access to side connectors.

Quick access to electrical junction box.

Easily replaces a standard electric water heater.
Why Hybrid?
It's an intelligent replacement solution. Easy to install and service, the new Ruud® Hybrid Electric Water Heater is the smartest and most efficient water heater available. It delivers an impressive savings for homeowners - right away with potential federal tax and local utility rebates and an ongoing average savings of $491 of energy costs each year.
Plus, it's full of smart features that homeowners love - from built-in WiFi to an exclusive LeakGuard™ leak detection and prevention.
Contact your salesperson or nearest branch to learn more!
(*Must have an account to take advantage of the promotion. **Limited to 1 free booster per customer per each month promotion is valid.)
New Tax Rebate Information
Check out the credit flyer and details about the reform to the Federal Tax Credit for Energy Efficient Water Heaters. Ruud's hybrid models have up to $2000 and SR Ikonic Tankless have up to $600 rebates!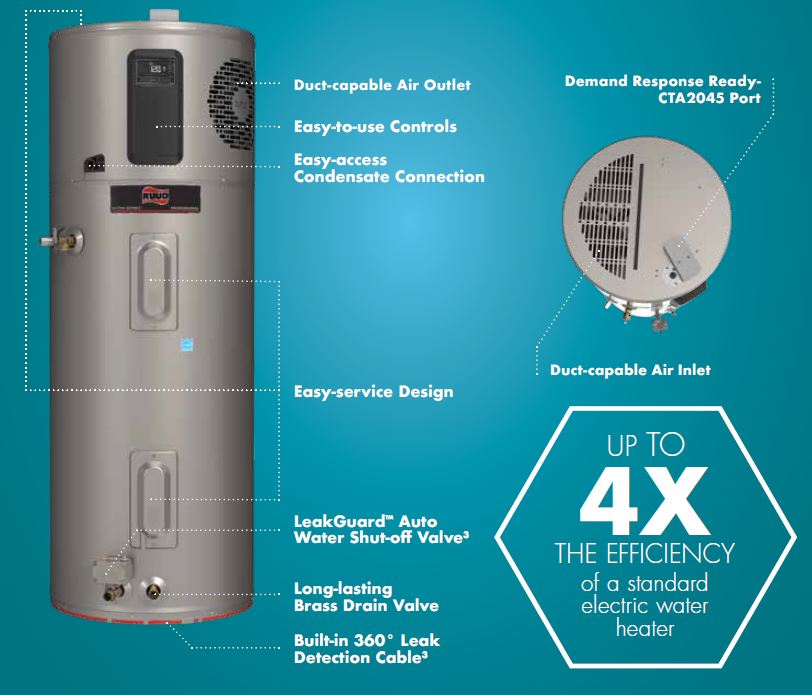 Hybrid Makes it Easy
Perfect for replacement - Easy replacement with the same dimensions as a standard electric water heater and one-button startup.
Fits more applications - With zero clearance requirement, the new Hybrid Electric is a great option for homes with less space, even in closets.
Built-in premium features - Save yourself some time with built-in leak detection, automatic water shut-off valve and WiFi control.
Convenient design - All serviceable parts and condensate lines are on the front of the unit, making service a breeze.
Self-cleaning - Reduces sediment buildup to prolong tank life and maintain the water heater's efficiency and tank capacity.
Best-in-class warranty - Deliver peace-of-mind with a 10-year limited tank and parts warranty.
Hybrid Models In Stock Soon!
Sustainability that Works
Did you know?
The Ruud® Hybrid Electric Water Heater uses less energy to operate than a classic 100W incandescent light bulb!
This water heaters pulls heat energy from the air around it to heat water, making it the most efficient water heater on the market.
The Hybrid uses 75% less energy than a standard electric water heater to help minimize your impact on the environment.
With the all-inclusive leak prevention system that limits leaks to no more than 20oz of water, it protects the home from potential water damage.
Sign up for our monthly newsletter!
Want to stay up to date on events, promotions, news, and more?
Our Wise Bites monthly newsletter is for you!
Why Wiseway?
Since 1972, we've been distributing top brands of electrical and plumbing supplies from southern Ohio to central Kentucky. Don't let our growth fool you! We're still privately held which gives us the ability to make quick decisions and personalize our service. Whether you need electrical, lighting, or plumbing supplies for your own home or for the job, trust Wiseway has the stock and the expertise you need.