Ruud SR-Series Tankless
November Promotion
During the month of November, when you purchase 6 SR-Series tankless models, you'll receive one for FREE!
The new standard in tankless - Ruud's SR-Series Condensing Tankless Water Heater with Recirculation. It's easier than ever to give homeowners advanced, continuous hot water. It's intelligently designed for compatibility with many applications, offer uncomplicated installation and service, and backed by unmatched support.
Built-In Recirculation Settings
Select from 3 settings:
Timer Based (Performance or Energy Saver)
Custom Schedule (operates in Performance mode during select times)
On-demand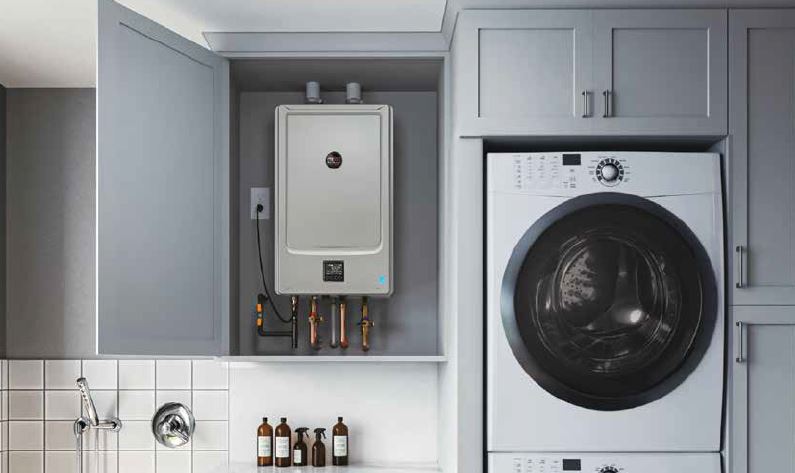 Small in Size - Big in Performance
Install Where You Need To
Ruud® SR-Series Condensing Tankless provides maximum install flexibility with its compact size and industry-best 1/2" side to side clearance.
Tank to Tankless Upgrades Made Easy
Longer vent runs, ability to use room air, ability to flex vent in existing B-vent and ability to run on a 1/2" gas line allow for a cleaner, faster and easier installation.
Ruud® SR-Series Condensing Tankless can be installed either with direct vent (outside air) or non-direct vent (room air) intake. Room air intake allows maximum installation flexibility in an open area like a basement or garage, as well as in smaller spaces like a closet with full louvered door.
Sign up for our monthly newsletter!
Want to stay up to date on events, promotions, news, and more?
Our Wise Bites monthly newsletter is for you!
Why Wiseway?
Since 1972, we've been distributing top brands of electrical and plumbing supplies from southern Ohio to central Kentucky. Don't let our growth fool you! We're still privately held which gives us the ability to make quick decisions and personalize our service. Whether you need electrical, lighting, or plumbing supplies for your own home or for the job, trust Wiseway has the stock and the expertise you need.