Plumbing Supplies in Dayton, Ohio
Wiseway Supply - Kettering
This location offers a plumbing supply counter that serves the Dayton area.
We offer top plumbing supply brands like Rheem, Zoeller, Kohler and Sterling.
Opened in 2022, this branch opened the same year as our golden 50th anniversary!
Stop by to pick up the in stock plumbing supplies you need today.
Don't miss our counter days! Sign up for Wise Bites, our monthly newsletter, below!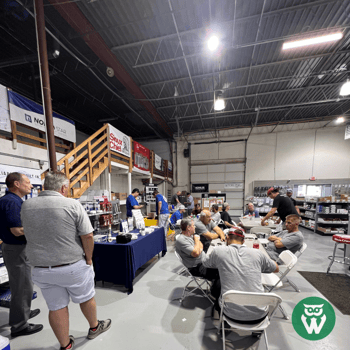 Managed by David Lynch, this branch knows plumbing. Stop by and meet the team today! Pictured below is our outside sales rep, Gene!
Store Hours
Monday - 7:00AM - 4:30PM
Tuesday - 7:00AM - 4:30PM
Wednesday - 7:00AM - 4:30PM
Thursday - 7:00AM - 4:30PM
Friday - 7:00AM - 4:30PM
Saturday - 8:00AM - 12:00PM
Sunday - Closed
What Customers Are Saying


Wise Bites - Our Monthly Newsletter
Sign up for Wise Bites!
Want to stay up to date on events, promotions, news, and more?
Our Wise Bites monthly newsletter is for you!
Why Wiseway?
Since 1972, we've been distributing top brands of electrical and plumbing supplies from southern Ohio to central Kentucky. Don't let our growth fool you! We're still privately held which gives us the ability to make quick decisions and personalize our service. Whether you need electrical, lighting, or plumbing supplies for your own home or for the job, trust Wiseway has the stock and the expertise you need.